On Sunday, March 8, 2015, the Men of Bethel celebrated their Annual Men's Day.
It was a day of filling our bodies and souls.
The Theme for Men's Day was: John 5: 1-15 "Evidence of Courage" The Men, The Water, The Healing.
Our guest Preacher for Men's Day was the Rev. Arthur E. Doctor, Jr. of St. Mark A.M.E. Church, Wilkinsburg, PA, along with his Choir and Congregation.
Prior to hearing the word, Bethel was joined by St. Mark and area churches for a fellowship dinner.
We want to thank Rev. Doctor for bringing such a powerful message.  We want to thank the St. Mark Choir for bringing us to our feet with Praise and we want to thank the St. Mark congregation for coming and supporting the Men of Bethel.
God Is Good.
The men of Bethel really know how to serve up a good meal.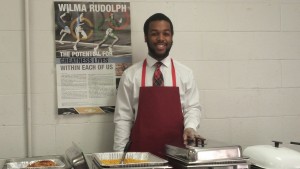 Jarrett Boxley – This young man can really bring a smile to serving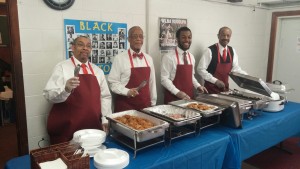 George Poole, Jesse Coleman, Jarrett Boxley-Coleman and Chester Foster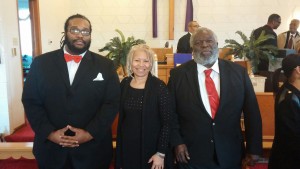 Melvin Thrower (Co-chairperson), Rev. Melva Hartzog and Bobby Rowe (Chairperson)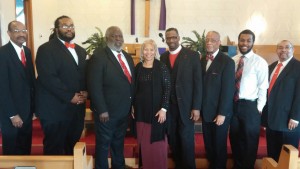 Chester Foster, Melvin Thrower, Bobby Rowe, Rev. Melva Hartzog, Rev. Arthur Doctor, Jr., Jesse Coleman, Jarrett Boxley-Coleman, George Poole
​Not present: Robert Simmons, David Patrick, Charles Bassett, Michael Foster and Marlin Thrower